Downtown Infrastructure and Streetscape Plan
Let there be light! Tuesday, June 19, 2018 after Mayor Lou O'Donnell, IV turned on the lights of North Whittaker Street for the first time.
---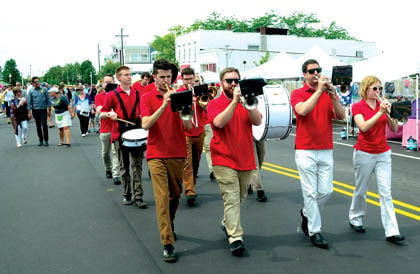 Patriot Brass Ensemble marches up North Whittaker Street from Mechanic to Merchant during Downtown Opening Celebration on June 14, 2018.
Mayor Lou O'Donnell, IV and DDA Chair Robert Kemper celebrating after the official ribbon cutting at the Downtown Opening Celebration of the completion of the North Whittaker Street Project.
NORTH WHITTAKER STREET PHASE II CONSTRUCTION IS UNDER WAY!!!
Pictured from left: Council Members Mark Robertson and Liz Ennis, Mayor Lou O'Donnell, Pokagon Band Representative Barbara Warren, Council Members Robert Sprito and Mark Kroll, DDA Chair Robert Kemper.
Monday, October 2, 2017, Phase II of the North Whittaker Street Project officially began with a groundbreaking at 4:00 pm. Work will begin on Phase II starting this week and crews will be at work on-site. The following is intended as a general summary of the work and is subject to change without notice due to weather, underground issues, and other unforeseen circumstances.
---
---
Estimated Reconstruction Quantities:
897 Ft of New Sanitary Sewer
1461 Ft of New Storm Sewer
1546 Ft of New Water Main
0.25 Miles of Full Depth Roadway Reconstruction
32,681 Sq Ft of Sidewalk Repairs and Improvements
---
PHASE I PROJECT SUMMARY:
Start Date: February 27, 2017
Completion Date: May 23, 2017
Project Construction Cost: $1,165,229.30
Project Scope:
The objective of Phase I was to improve infrastructure and parking, as well as reconstruction of roadways and sidewalks to set the stage for the upcoming Phase II. Phase I included work on Mechanic St. (from N. Barton to Townsend) and N. Barton St. (from W. Merchant to W. Mechanic) with three additional road-end parking lots at Barton, Thompson, and Townsend. In addition, a new parking lot was constructed at the corner of Barton and Mechanic and new on-street parking was added on E. Mechanic St., east of Townsend St. N. Barton St. work included sanitary sewer, storm sewer, water main, and full depth roadway reconstruction. W. Mechanic St. work included storm sewer, water main, and full depth roadway reconstruction. E. Mechanic St. work included storm sewer, sanitary sewer, and full depth roadway reconstruction.
Reconstruction Quantities:
1095 Ft of New Sanitary Sewer
1109 Ft of New Storm Sewer
797 Ft of New Water Main
0.325 Miles of Full Depth Roadway Reconstruction
11,719 Sq Ft of Sidewalk Repairs and Improvements
North Whittaker Street Redevelopment Phase I
The North Whittaker Redevelopment Project has been divided in two phases. Phase I includes Barton and Mechanic Street. Phase II includes North Whittaker Street.
This project was made possible, in part, due to a generous $1.6 million grant from The Pokagon Fund.
The preliminary budget and funding sources are at the link below:
After reviewing and assessing the existing infrastructure, three key areas were identified as part of this project:
Whittaker Street (Buffalo to Mechanic) is the main component of the reconstruction project. It is in need of a full reconstruction due to the poor condition of both the roadway and utilities. The existing water main is over 100 years old and is so shallow that the water service lines freeze during the winter. In addition to replacing the water main, the sanitary and storm sewers will be repaired or replaced for more efficient service. Reconfiguring Whittaker Street with parallel parking, wider sidewalks and a bike lane will offer a more inviting public space for our residents and visitors alike.
Both Barton Street (Merchant to Mechanic) and Mechanic Street (Whittaker to Thompson) were recently upgraded to include new water and sewer systems, paving, curbs and sidewalks. Due to the improvements the City has gained 66 additional parking spots.
Other areas that will received curb, sidewalk and pavement rehabilitation and utility upgrades are Merchant Street (Barton to Whittaker) and Merchant Street (Barton to Thompson).
---
At the July 19, 2016 meeting, the City Council approved Option 2 for the Whittaker Street configuration. This configuration includes parallel parking on both sides of Whittaker, bike lanes and widened sidewalks.
Parallel parking allows for safer pedestrian and bicycle movement and also provides for better visibility of building facades. Many residents and business owners expressed concern about the parking configuration change. Spaces lost on Whittaker will be relocated to surrounding streets such as Barton and Mechanic. The plan is to evaluate all surrounding streets and maximize parking especially in areas that are currently underutilized or not clearly delineated.
The addition of a bike lane is an extension of the recent South Whittaker improvements. This bike lane completes a north-south pathway between the City limit and the lakefront. It also connects the business and residential areas on both ends of Whittaker Street.
Wider sidewalks allow for a welcoming pedestrian environment and ADA compliant access. Benches, planters, trees and other streetscaping elements will be installed. Businesses will be able to take advantage by having outdoor spaces for café areas or merchandise display.
The project will also include significant water main, sewer and drainage improvements.
Click the link below to see the rendering.
---
At the March 22nd Open House on the N. Whittaker Project, a formal presentation was given by Houseal Lavigne, along with Abonmarche, and Landscape Architects. The agenda included an overview of each configuration option with its benefits and details. An open discussion period was held for the community to review renderings and learn more about the project.
---
The City Council has approved a contract with Abonmarche Consultants to move forward with the redevelopment of North Whittaker Street from Buffalo St to Mechanic St. Included in the scope of work will be the reconstruction of Whittaker Street with utility work, new pavement, widened sidewalks, and streetscaping items. Minor improvements may also be completed on adjacent streets, including parking reconfiguration and repairs of sidewalk, curb and pavements.
In 2013, a plan was chosen from the Business Improvement District's Downtown Streetscape Plan. Due to the length of time elapsed with no further action, this new design team has been selected to pick up where the previous study left off.
Target dates and goals include:
March 2016 - Preliminary concept plans for review
March 2016 through April 2016 - Review of concepts by DDA, Planning Commission, City Council, and the public
May 2016 - Final selection of concept plan and approval for design
September 2016 - Complete construction drawings and begin bidding process
Fall 2016 through Fall 2017 - Construction of project
---
PROJECT DEVELOPMENT AND HISTORY
In August 2009, the Business Improvement District Board of Directors conducted a Downtown Study. This Study was based upon results of a downtown survey which was posted online, noticed in newspapers, mailed to a sample of 678 resident households (153 responses; 23%), given to 62 students, and 18 downtown businesses were interviewed personally. A grant from the Pokagon Fund made this study possible.

The results from this Downtown Study were used by the Business Improvement District (BID) Board of Directors to create the BID's Downtown Streetscape Plan, completed January 2010.
The City Council approved Option 3 from the Downtown Streetscape Plan in 2013 which included reducing the total number of driving lanes to two, keeping the angled parking on both sides with a buffer lane, and widening the sidewalks.
Other infrastructure elements included a full street reconstruction of North Whittaker from the U.S. Route 12 intersection up to the Amtrak railroad, and Mechanic Street from Whittaker to Townsend, with new sanitary sewer collection lines, water mains, storm drains, burying overhead utility lines, and streetscape amenities.